Shows
Flakes
Italian version

By Willmar Robusti. With Vittorio Savegnago and Leonardo Beccari.
Music by Nicola Zulpo.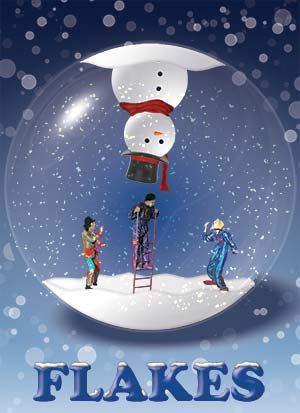 The new Giullastri's show.
On a newly snowed landscape, during a full moon night, magically a snowman becomes a child. That's how his adventure in the world begins, searching for a true friend. After a few disappointments, he will meet the head of a train station with whom he develops a special feeling made of games and challenges, of complicity and rivalry.
But the spell soon stops and the child is forced to become a snowman again… will he be able to find the love that can warm up his heart?

What would a snow flake be if it could halt its fall and stay suspended in the air?
This is how "Snow" is an extract of life that develops in the time that a snow flake fluctuate towards earth.
The theme that the Jesters are focusing on is FRIENDSHIP, on a path towards goodness and optimism.

With their non-verbal language, skill and magic they face this theme by taking it to the magic and velvety atmosphere that only snow can create.
Strong participation of the audience.

View other shows of Giullastri
Photo
Video